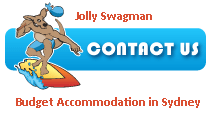 Posted 05/05/2009 – 8:05 pm in: Backpackers Hostels in Sydney
Before you get there



Travel Planning

 

– Buy a good Australian map and plan the places/regions you intend visiting in Australia. This is crucial since so many other factors evolve from this point. Don't believe anyone who says, "just arrive and go from there", as they are usually the ones who waste time and money.

 

Have a logically flowing direction, avoid backtracking (Australia is huge!) and look at air travel as a means of covering large distances. Unlike in any other times before now is the time you can do this seriously cheap 

Travel Money, Visas & Backpackers Work

 

– Get an idea in broad terms what it will cost to do what you want: e.g. lodging, travel, food, tours, and party essentials. Don't leave yourself short, there is nothing worse whilst travelling around than arriving at a destination icon and not being able to pass through the gates. It sounds stupid but it happens all the time.

 

Feeding your self-noodles on toast and moping around a backpackers hostel won't generate the money. Working while your remain in Australia can help, and many travellers on working holiday visas do make money to further their travels, however this normally just sustains the non-stop partying most travellers seek. If you think the money you have already saved will not be enough, now is the time to work some overtime at home, beg your parents and/or get a large credit card limit to use as a final resort. 

Travellers with a working holiday visa keep in mind you can only get this once in your life, so I suggest that if you're not sure of your prospects come over on a three month holiday visa, try things out, and if all looks good you can go over to New Zealand or the nearest South Pacific country and then get one. 

Also another very vital point to bear in mind (with the working holiday visa scheme) is that even though you are probably very well educated and qualified, any one employer can only legally hire you for 3 months at a time, so the possibility of getting a great job is low. Most backpacker travellers in Australia get work labouring on building sites, waiting/cooking/cleaning in bars, restaurants and cafes (hospitality), serving in shops (retail), data entry, telephone sales or fruit picking.

Optimal Timing

 

- After deciding that what you really want to do is within the realms of possibility, check seasonality and the major events calendar. These are two very essential subjects because they will most likely cause you to sit back down at the map… detours will be created, times will be changed, and the end result will make for an excellent trip. There is nothing worse than turning up to a place to find everybody saying, "you should have been here last week".

 

Australia has many different climatic conditions because it is a huge country and there are so many festivals and events I am sure you certainly would want to attend. To list every event would be way too time consuming and I'm sure most of the popular guide books list them together with the weather conditions expected at particular times.

Travel Guide Books

 

- Buy a good guidebook and read what it says. I know it's hard to envision a place until you have landed but this will help you. Currently the most popular backpacker guidebooks are the Lonely Planet, Rough Guide, Lets Go and BUG Australia.

 

Pack Lightly

 

- Travelling with the least amount of weight on your back gives you the freedom and will help you save money by being able to walk to a hostel from a drop-off rather than taking a taxi, bus etc.

 

However, Australia's backpacking network is so well organized you rarely have to walk far at all. So that spare space can be kept for a souvenir or two. We do have shops over here and with exchange rates it probably makes shopping cheaper than at home. 

'Stop over' in Asia En-route to Australia

 

- Practically every flight from Europe stops to refuel in Singapore, Kuala Lumpur or Bangkok, so take advantage of this for little/no extra cost and have a look around. They are all fascinating places to visit and the cost is low, plus it breaks that long flight up. Do you really want to sit in the same seat for 24 hours?

 
Tags: asia, australia, Backpacker Travelling tips Australia, Backpackers Work, Optimal Timing, Pack Lightly, Travel Guide Books, Travel Money, Travel Planning, Visas